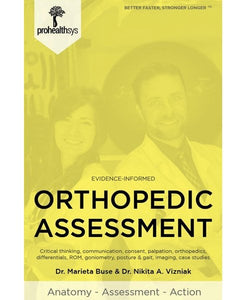 Dr Nik Evidence Informed Orthopedic Assessment
Regular price $59.97 Sale
Evidence Informed Orthopedic Assessment is a quick reference guide developed for students, instructors, and healthcare providers to perform thorough orthopedic evaluations and determine appropriate treatment for musculoskeletal condition or injury.
Use the Orthopedic Assessment textbook in the classroom and clinic for patient education. The content, imagery and format are designed to be useful during practice, and in the classroom for procedures, interpretation, clinical notes, ranking, and supportive videos accessible online. This includes current evidence best practices, with over 3500 references.
Orthopedic Assessment is a valuable study guide to prepare for National Board Exams, State/Province Board Exams, Clinical Skills Examinations, and many other standardized licensure examinations.